Prefabricated 30m² classroom
Date Launched
18 July 2023
Location
Kuils River, Cape Town
Western Cape
No of children
60 children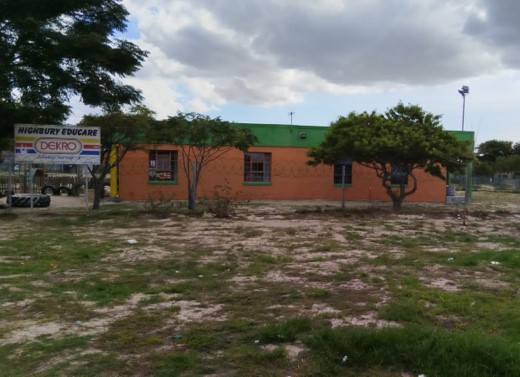 Impact achieved
Highbury Park Educare Centre, a well-established early childhood development centre (ECD) in the community of Kuils River, were the beneficiaries of a prefabricated 30m² classroom for their Grade R children – launched on Mandela Day, 18 July 2023.
The school was founded in 1996 by Principal Theresa Pietersen and has seen remarkable growth over the years, necessitating the addition of a dedicated Grade R classroom.
The new classroom, made possible by the generous contributions of donors Capfin, Tenacity, and Pepkor, signifies a significant milestone in the development of Highbury Park Educare Centre. To celebrate this occasion and commemorate Mandela Day, donors and staff from Capfin, Tenacity, and Pepkor spent 67 minutes engaging in fun and educational activities with the children.
The day commenced with the official handover of the new classroom, followed by the children receiving personalised t-shirts. They were then divided into four teams, ready to participate in a mini soccer tournament and various other games and activities. The children were delighted to have fun with their visitors, participating in an obstacle course, dancing, and enjoying a delectable morning snack and lunch.
Theresa Pietersen, the Principal of Highbury Park Educare Centre, expressed her gratitude: "This new classroom has already made a tremendous difference at our ECD centre. We also had the best Mandela Day ever, filled with games, goodies bags, interactions with the children, and a delicious lunch and juice. Thank you, from the family of Highbury Park Educare Centre."
Mandy van der Berg from Capfin also expressed her appreciation, saying, "Thank you for making a difference in the lives of others on Mandela Day; it is truly something special. Through our partnership with Breadline Africa, we were able to make a difference in the lives of many young children at the Highbury Park Educare Centre in Kuils River. I am humbled by the work that you do, and I am excited and ready to journey with you into 2024!"
The event was made even more special with a touching poem dedicated to the children, written by one of the volunteers:
The heart of a child…
The heart of a child is pure and without blemish,
They seek only love, and we should cherish…
They are the foundation and soul of the nation,
They are our gems, a sterling salvation.
The more we enhance their smiles,
Our future will be secured through the heart of the child…
Breadline Africa, in partnership with its donors, remains committed to uplifting communities and empowering young learners like those at Highbury Park Educare Centre, ensuring access to quality education and a brighter tomorrow.