We have provided over 4 million meals to vulnerable people in need.
Since the announcement of lockdown, Breadline Africa immediately focused all efforts toward emergency feeding programmes in poor communities to alleviate hunger. Through pre-school meals, food parcel distribution and community kitchens, we have provided over 4 million meals.

Help us to continue our feeding programmes and feed more desperately hungry children.
On behalf of the children, we thank you for your kindness and support.
Pre-School Feeding
It stands to reason that you simply cannot teach a hungry child. In a further effort to ensure that young children in South Africa have a brighter future, Breadline Africa is providing a fortified maize porridge (supplemented with a peanut butter paste filled with essential nutrients, used by UNICEF and others for famine relief) to 1,019 children in pre-schools in Western Cape and Gauteng. Starting the day with a warm, nutritious meal lays the foundation for learning at this early stage, offering the children the best possible start to their education – and when the weather is cold, a hot meal is even more welcome!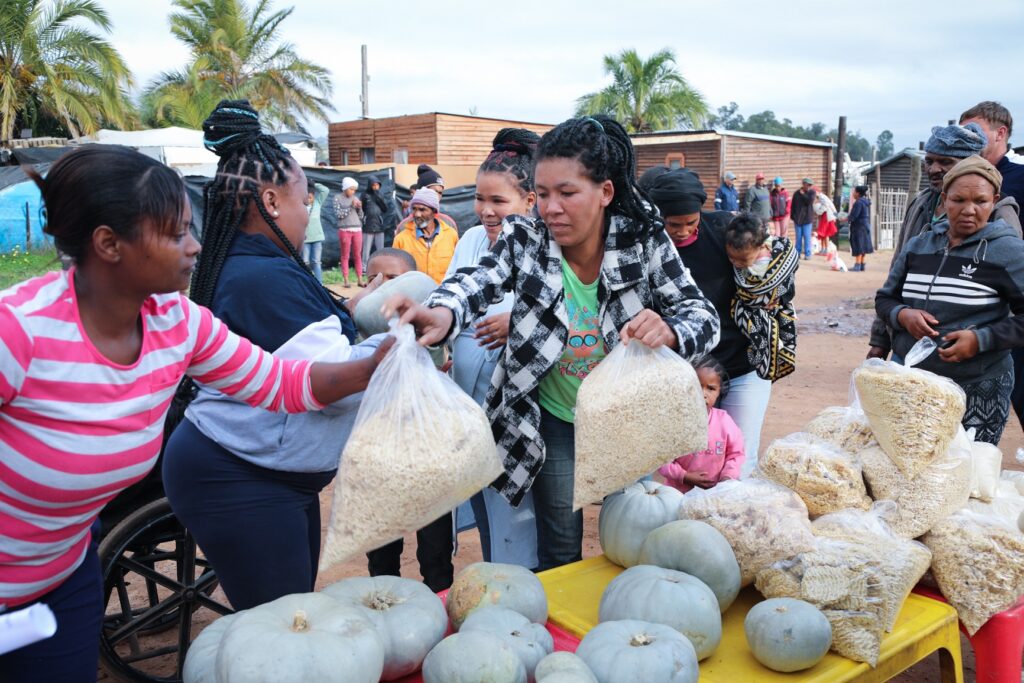 Food Parcels
In our core work of placing educational infrastructure in disadvantaged communities across the country, we encounter children whose families clearly struggle to make ends meet. And some months are more difficult than others. Providing food parcels to communities in need during these times has been an important initiative for Breadline Africa since its inception nearly 30 years ago. Twice during the year, a needy community is selected to receive food parcels and – in the winter months – warm blankets.
Community Kitchens
Even before the pandemic, Breadline Africa had been involved with community feeding programmes through the provision of container kitchens to established projects that appealed to us for assistance. But with the first lockdown in 2020, the dire need for feeding support in the communities we work in, necessitated our direct involvement to keep these projects afloat. While some of these feeding kitchens had already been operating for some time, the sheer volume of people lining up each day for a meal necessitated the provision of additional food.
Your contribution is what keeps us going.
On behalf of the children, we thank you for your kindness and support.